By  Sumita Ambasta , Founder & Trustee, Plaksha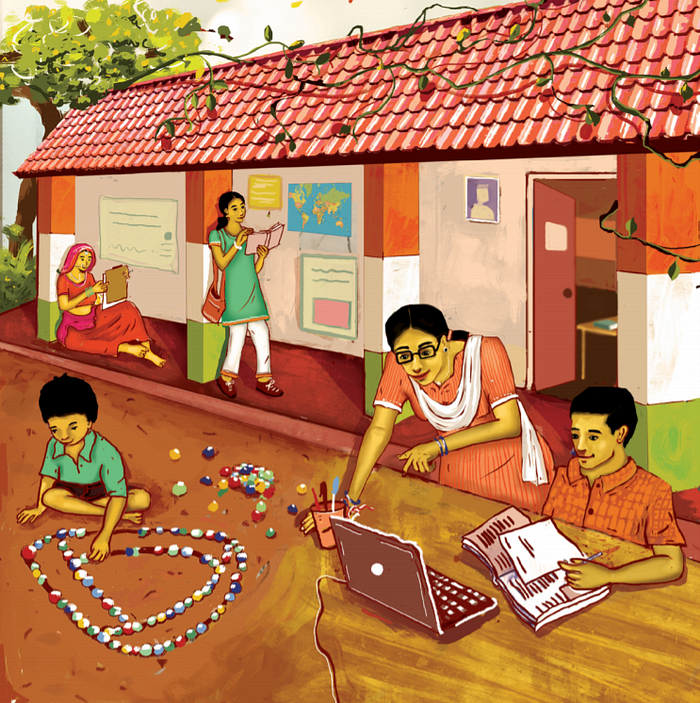 2020 is a year for disruptions and reconstruction. The pandemic has resulted in unprecedented reviewing of the ways in which we view policy. In India, a new Educational Policy, The NEP2020, released on July 29, 2020, after 36 years, has been met with enthusiasm, curiosity and a healthy level of skepticism and criticism. It's vision is ambitious:
"National Education Policy 2020 envisions an India-centric education system that contributes directly to transforming our nation sustainably into an equitable and vibrant knowledge society by providing high-quality education to all."
India's Education system is the second largest in the world, second only to China. Therefore the process of producing a policy for a democratic country becomes an exercise in large debate. The policy is the first comprehensive Educational Policy since India's liberalization in 1991, and the resultant economic reforms that marked a shift from a centralized economic planning model to an opening of markets to globalization, and hence addresses the needs of a completely different country from the one in 1986.
The most significant shift embedded in the NEP2020 is the renaming of the Ministry of Human resource Development to the Ministry of Education. With this move, the policy makes it clear that citizens are not human capital alone, and shifts the focus to a knowledge economy and sustainability. It is important to view the document as a way to signal change in policy direction in school education, higher education, vocational training and teacher education and not as a blueprint for implementation. The policy will be fully operational by 2030–2040, as the herculean task envisaged in implementing these policy changes is evident in this long-term implementation timeline. Nothing will happen in a hurry, and the strength of the policy will lie in how well it is implemented.
The NEP makes some bold policy changes for school education in moving from a content based education to a pedagogical approach, much more in line with global trends. By providing guidelines for a language policy, but in leaving the decisions up to states in its implementation, there is an intent to align with educational research, but language issues have always been fraught. This is no exception. The policy outlines a range of proposals for elementary education emphasizing foundational literacy and languages in early years. To this goal it emphasizes the need for strong teacher education. The goal of school education is to start with activity-based education and slowly moving to critical and multidisciplinary education, in a sharp move away from the arts, commerce and science streams of education. Public school education in India has been left behind for decades, aiding the rise of a private school and education market, making the issue of affordability of education for marginalized populations a big one. Some unverified sources of data state that private schooling has moved from 30% of the student population to almost 48% in 2018. By strengthening the pedagogical concerns, and emphasizing teacher education for public schools, the NEP makes a commitment to public education, in a move that can have long term effects on social and class mobility.
The higher education sector has been given unprecedented flexibility in creating interdisciplinary education, an academic back of credit, many exit points to suit people's goals. 3 and 4 year degrees, 1 and 2 year masters programs, and an overarching focus on research and technology frames the revisions in the Higher Education policy. The setting up of a National Research Foundation to develop a culture of research by providing funding and coordination for research by different agencies, academic institutions and private and philanthropic organizations can support the Higher Education sector to create peer reviewed, and innovative research. While the NEP2020 opens the doors for international universities to enter the country, policies regarding this still need clarification. One of the biggest challenges for such international universities as seen in countries like Singapore are twofold: One in terms of adaptation to the local needs and culture, and two in terms of affordability. The issue of cost and relevance will push all private as well as public universities to redesign their curriculum, and focus towards research, and better-quality teaching. The gross enrollment ratio in higher education is 26.3% and will see a rise, opening up opportunities for many educational players. However, in combining vocational skills with a flexible higher education structure has the potential to create employment, skilled workers, and expand the knowledge economy. According to MEA, almost 11 lakh students go abroad every year. By building India as an educational hub, and strengthening the knowledge economy, the NEP envisages a larger and more ambitious vision than any past policy. However, while the goal is to spend up to 6% of the GDP on education, a historically tall task. Covid-19 and the contraction of the economy might present challenges to such plans.
The intentions and goals on paper are encouraging and seem progressive. The challenge in India, like with everything else, will be one of aligning the interests of different stakeholders, and hence of implementation. With the inclusion of many voices in this policy, a path has been set to imagine India as a knowledge economy. The policy seems to shift from a two-tier structure of colonial education; one for the elites, and one for everyone else. If the NEP2020 succeeds to do that in action, then it would be a progressive view to how democracy is enacted, through critical thinking, through innovation, and lived knowledge. The issue of social cohesion towards one goal of building an equitable, knowledgeable and caring society through education will be the determining factor.
The article was first published in Education World, on September 16, 2020.