Updated: Apr 4, 2023, 07:53 IST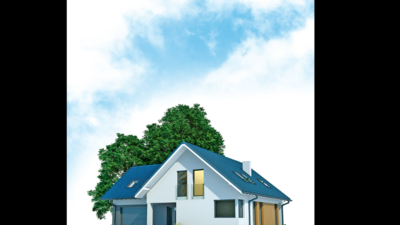 HYDERABAD: In a bid to make Telangana a heat resilient state, municipal administration and urban development department has launched India's first Cool Roof Policy 2023-2028 at CDMA office at Masab Tank on Monday. The policy aims to drive state-wide adoption of cool roofs by making it mandatory to install cool roofing materials, such as solar reflective paints, tiles or sheets.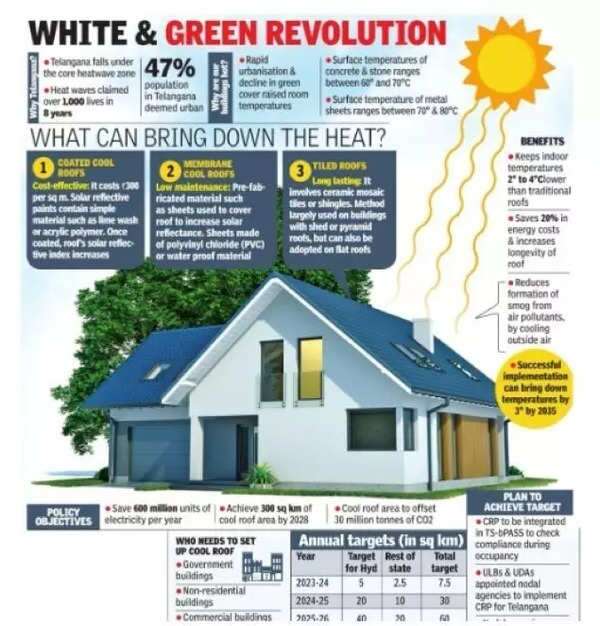 The five-year policy, which came into force on April 1, and would be in operation till March 31, 2028, aims to achieve a target of implementing clean roofing technology across 300 square kilometres of roof area — majorly (200 sq km) covering Hyderabad and rest of the urban pockets in Telangana. Speaking on the occasion, MAUD minister KT Rama Rao stated that they chose to launch the policy in April rather than December so that the issue would be taken seriously during summer.
"This policy isn't framed with a myopic vision but with a long-term vision to serve well for future generations. Even in New York, the target set was just 10 lakh sq feet, but we have set an ambitious target of bringing 300 sq km, which is 20% of the area inside ORR," Rao explained. Rao said that the government would be implementing the scheme across all government buildings and housing schemes. "We are also making this mandatory and enforcement will be done in this regard.
The occupancy certificate is linked to cool roofing solutions. We will also use it at government-assisted housing scheme, which will cover 10 crore sq feet," he added. Apart from roofs, the policy also aims at incorporating cooling materials while laying roads, footpaths and cycling tracks. He also requested experts and builders to adopt technologies that would make the walls cooler too. Indorama Ventures Centre for Clean Energy director Professor Vishal Garg, who was involved in creating the policy, warned that 35° Celsius temperature with 100% humidity could be fatal even for a healthy person. "It hasn't happened before, but we will soon see this frequently. When there is 100% humidity, the body loses its ability to lose heat and can cause a heat stroke and death," Vishal revealed, during his presentation on the policy.
[This piece was written exclusively for Times Of India by Dr. Vishal Garg, Dean of Research, Plaksha University on April 4, 2023]