By HT Correspondent | May 29, 2019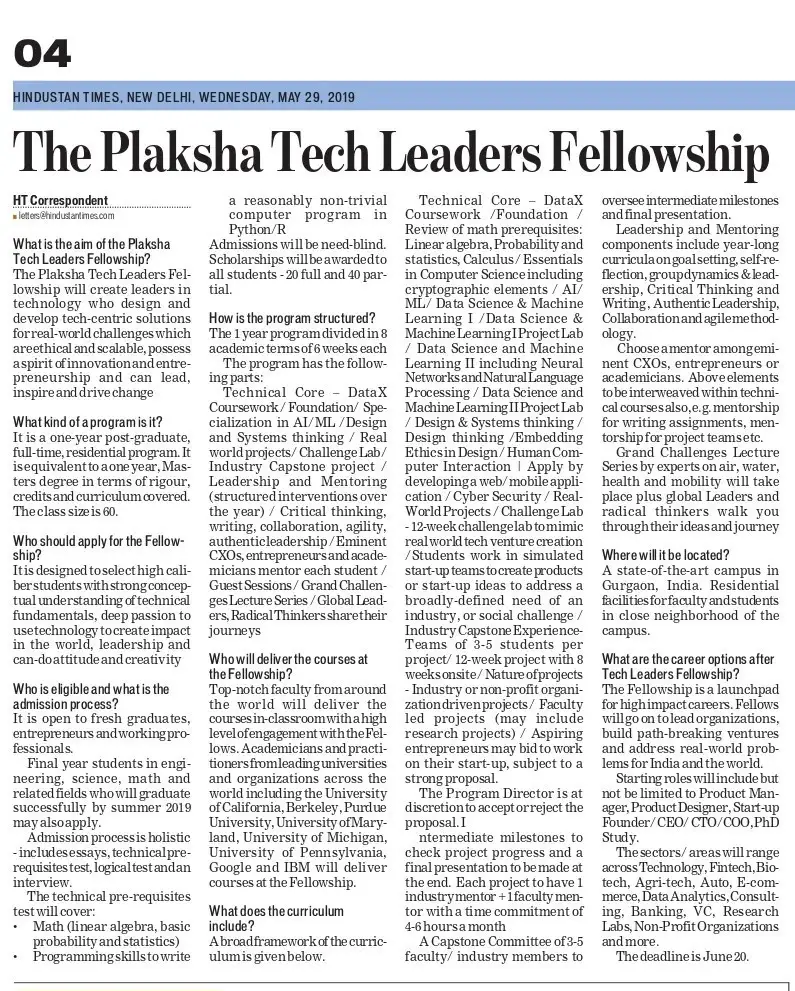 What is the aim of the Plaksha Tech Leaders Fellowship?
The Plaksha Tech Leaders Fellowship will create leaders in technology who design and develop tech-centric solutions for real-world challenges which are ethical and scalable, possess a spirit of innovation and entrepreneurship and can lead, inspire and drive change.
What kind of a program is it?
It is a one-year post-graduate, full-time, residential program. It is equivalent to a one year, Masters degree in terms of rigour, credits and curriculum covered. The class size is 60.
Who should apply for the Fellowship?
It is designed to select high caliber students with strong conceptual understanding of technical fundamentals, deep passion to use technology to create impact in the world, leadership and can-do attitude and creativity
Who is eligible and what is the admission process?
It is open to fresh graduates, entrepreneurs and working professionals. Final year students in engineering, science, math and related fields who will graduate successfully by summer 2019 may also apply.
Admission process is holistic - includes essays, technical pre-requisites test, logical test and an interview. The technical pre-requisites test will cover:
• Math (linear algebra, basic probability and statistics)
• Programming skills to write a reasonably non-trivial computer program in Python/R
Admissions will be need-blind. Scholarships will be awarded to all students — 20 full and 40 partial.
How is the program structured?
The 1 year program divided in 8 academic terms of 6 weeks each
The program has the following parts:
Technical Core — DataX Coursework /Foundation/ Specialization in AI/ML /Design and Systems thinking / Real world projects/ ChallengeLab/Industry Capstone project / Leadership and Mentoring (structured interventions over the year) / Critical thinking, writing, collaboration, agility, authentic leadership / Eminent CXOs, entrepreneurs and academicians mentor each student /GuestSessions /GrandChallengesLectureSeries /GlobalLead-
ers, Radical Thinkers share their journeys
Who will deliver the courses at the Fellowship?
Top-notch faculty from around the world will deliver the courses in-classroom with a high level of engagement with the Fellows. Academicians and practitioners from leading universities and organizations across the
world including the University of California, Berkeley, Purdue University, University of Maryland, University of Michigan, University of Pennsylvania,
Google and IBM will deliver courses at the Fellowship.
What does the curriculum include?
A broad framework of the curriculum is given below.
Technical Core — DataX Coursework /Foundation / Review of math prerequisites:
Linear algebra, Probability and Statistics, Calculus / Essentials in Computer Science including cryptographic elements / AI/ ML/ Data Science & Machine Learning I /Data Science & MachineLearning IProjectLab / Data Science and Machine Learning II including Neural Networks and Natural Language Processing / Data Science and MachineLearning IIProjectLab / Design & Systems thinking /Design thinking /Embedding Ethics in Design / Human Computer Interaction
Apply by developing a web/mobile application / Cyber Security / Real- World Projects / Challenge Lab - 12-week challenge lab to mimic real world tech venture creation /Students work in simulated start-up teams to create products or start-up ideas to address a broadly-defined need of an industry, or social challenge / Industry Capstone Experience- Teams of 3–5 students per project/ 12-week project with 8 weeks onsite /
Nature of projects
Industry or non-profit organization driven projects
Faculty led projects (may include research projects) / Aspiring
entrepreneurs may bid to work on their start-up, subject to a strong proposal. The Program Director is at discretion to accept or reject the proposal. Intermediate milestones to check project progress and a
final presentation to be made at the end. Each project to have 1 industrymentor+ 1 faculty mentor with a time commitment of 4–6 hours a month
A Capstone Committee of 3–5 faculty/ industry members to oversee intermediate milestones and final presentation. Leadership and Mentoring components include year-long curricula on goalsetting,self-reflection, groups dynamics& leadership, Critical Thinking and Writing, Authentic Leadership, Collaboration and agile methodology.
Choose a mentor among eminent CXOs, entrepreneurs or academicians. Above elements to be interweaved within technical courses also, e.g.mentorship for writing assignments, mentorship for project teams etc.
Grand Challenges Lecture
Series by experts on air, water, health and mobility will take place plus global Leaders and radical thinkers walk you through their ideas and journey
Where will it be located?
A state-of-the-art campus in Gurgaon, India. Residential facilities for faculty and students in close neighborhood of the campus.
What are the career options after Tech Leaders Fellowship?
The Fellowship is a launchpad for high impact careers. Fellows will go on to lead organizations, build path-breaking ventures and address real-world problems for India and the world. Starting roles will include but not be limited to Product Manager, Product Designer, Start-up Founder /CEO/CTO/COO, Ph.D. Study. The sectors/areas will range across Technology, Fintech, Biotech, Agri-tech, Auto, E-commerce, DataAnalytics, Consulting, Banking, VC, Research Labs, Non-Profit Organizations and more.
The deadline is June 20.
This article first appeared in HT Education on May 29, 2019.