Campus life shapes the students in many ways. The place where we spend 2-4 years of our life is more than a living abode. At Plaksha, students enjoy a wholesome, joyful and meaningful campus experience with a variety of activities that invigorate the mind and body.
A mix of sports, social initiatives, green causes, talks and awareness campaigns, cultural and fun activities et al gives students ample opportunities to learn and grow, socialize, display creativity and let their hair down.
From Yoga to PRIDE awareness, mental health workshops to Bollywood nights, there's something to tickle every student's spirit!
MENTAL AND PHYSICAL WELLNESS – HARNESSING THE MIND BODY CONNECT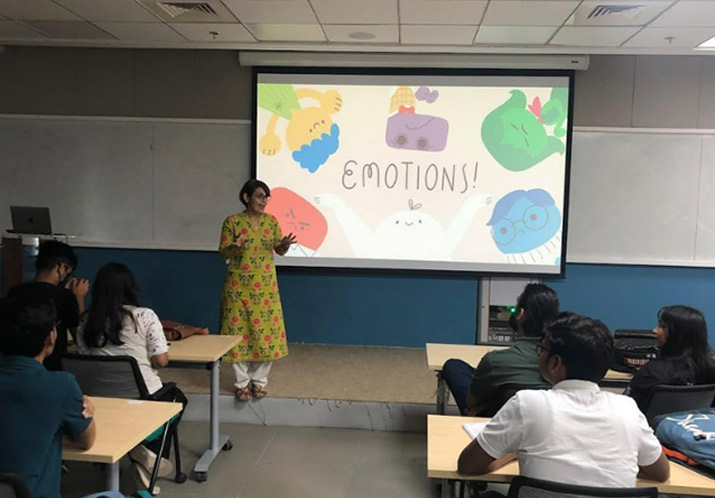 Science of Being Human
A mental wellness initiative at Plaksha led by our in-house psychologist Shalini Sharma – explores the socio-emotional journey of students on campus.
In small groups, students identify and understand people, habits and attitudes that have shaped them, but now weigh them down. Shalini helps students break free and move forward towards a more fulfilling life.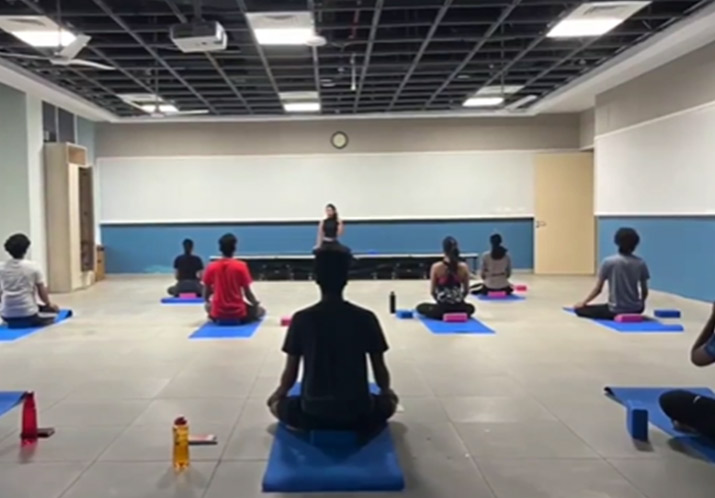 Connecting the dots with Yoga
To leverage the multitude of benefits of yoga for an agile body and mind, Plaksha has introduced this natural wellness practice as a life skill.
Yoga instructor Srishti Malpath has been leading this unique initiative at the Mohali campus since March. Not just asanas and breathing techniques, students are also learning basic ayurvedic principles for overall well-being.
EVENTS FOR A CAUSE
PRIDE Month
As a part of the PRIDE month celebrations at Plaksha University, students and staff participated in various awareness and sensitization efforts including a talk by Abhishek Ghosh (He/Him/His), Co-Founder, Qonnect, cultural activities, food, art, and more!
Students learnt how to be an ALLY for the LGBTQIA+ community - Act by standing up against harassment, Learn about the community, Lead by having open conversations and showing support and Yield space by listening before advising.



Plakshathon: Run for a Cause
A 5 KM marathon was held recently to raise funds to educate the workers' children. The inaugural event organized by our community service club Kartavya, along with the students sports committee saw enthusiastic participation from the students and faculty.



GIVING BACK!
STEM FOR Visually impaired students
To enhance the interest of visually impaired students in STEM and promote the spirit of inclusivity, Dr. Rucha Joshi (Faculty at Plaksha University) and her team visited the 'Institute for the Blind' in Chandigarh. Around 70 inquisitive and excited visually impaired students from Class 6-9 received a hands-on demonstration on some concepts in science and engineering. These included static charge demonstration using balloons and making circuits using potato batteries.


SHOWTIME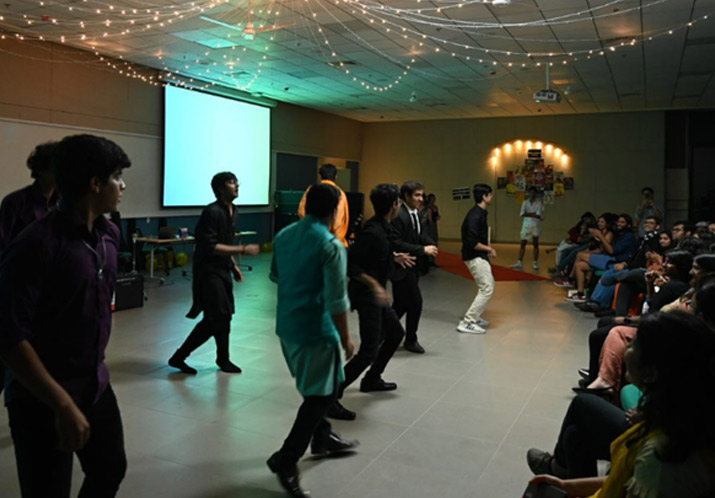 Bollywood Night
Students had a chance to channel their inner celebrity on Bollywood Night.
Dressed as their favorite characters from Indian cinema, students enjoyed an evening full of dance, music, games, food and drama.
SPORTS ON CAMPUS
Students regularly play sports and connect over other team activities at Plaksha University.
Friendly table tennis, basketball, cricket matches see the students compete fair and square with their peers.



GREEN INITIATIVE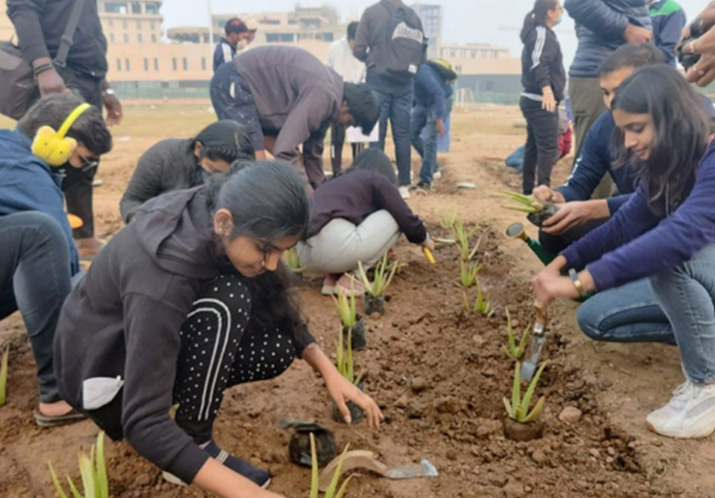 Nature at your Doorstep
Students, faculty and staff had a chance to exercise their green thumb by planting saplings.
The rewards of the harvest found its way to the dining table in the form of healthy salad! Now, students are excited about finding ways to monetize the initiative by selling at the farmer's market and more.
FESTIVE CHEER
Whether it is the festival of colors or lights, students celebrate with equal cheer and enthusiasm. With song and dance, food and clothes, students make the most of festive occasions to take a break and soak in the festivities.



EVERYDAY FUN - MAKING MEMORIES FOR A LIFETIME
Students eat and play, and trek together every once in a while. Conversations, memories in the making, hearty laughter, and inside jokes echo inside the halls of the campus. Students not only form bonds for their time at Plaksha, but well beyond.