By Siddhant Oswal, Program Team
Engineering degrees traditionally focus on just one discipline e.g. Computer Science, Electrical Engineering, Mechanical Engineering, etc. However, real-world applications lie at the intersection of various disciplines. Solving grand challenges needs individuals who can address the toughest problems faced by businesses, industry, and society. However, engineering education has not changed with the times. Can a 20th century education solve the problems of the 21st century?
Being a greenfield institution, Plaksha, has the opportunity to reimagine technology education in every way possible. This is reflected in not only what we teach, but how we teach as well.
An interdisciplinary engineering education means that our degrees are thoughtfully designed to dismantle walls between traditional engineering disciplines and prepare students to solve some of the toughest problems faced by our planet. Each degree offered by Plaksha is contemporary and unconstrained by the boundaries of one discipline.
The curriculum at Plaksha is forward-looking. In addition to the technology core, students will be exposed to the humanities and social sciences. We believe that if engineers have to solve the problems of society then they have to develop a stronger understanding of its issues.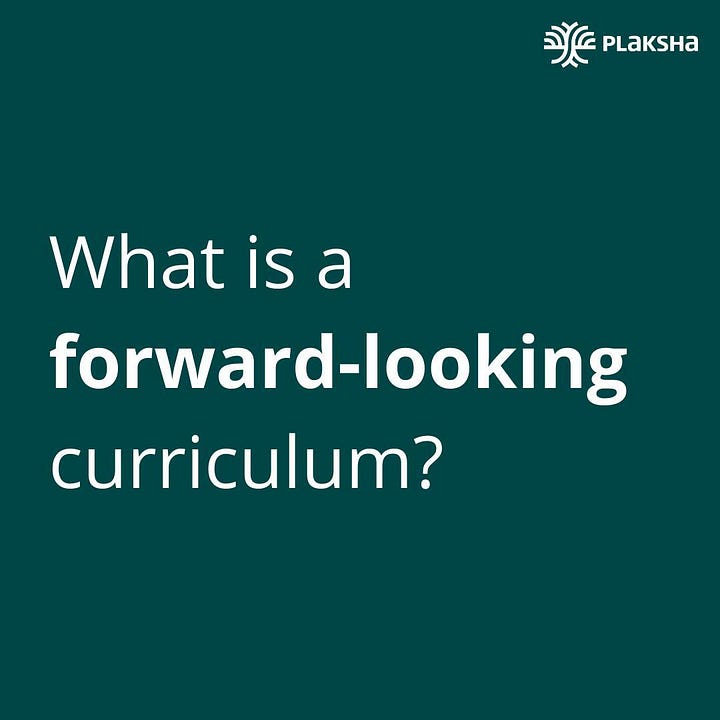 The curriculum at Plaksha will go beyond the confines of books and classrooms. Rather than having a 'ring-side view', students will dive right into the action through project-based learning across various disciplines enabling them to directly engage with real problems and foster a solution creating mindset. The Plaksha curriculum will also develop leadership ability and an entrepreneurial mindset, which are critical to creating problem-solvers.
Each graduate's technical knowledge will be complemented by context-awareness, and ability to explore, create, and design. Students at Plaksha to evolve into engineers who use technology for solving problems for social good, who are continuous learners, and are able to think through multiple domains. The Plaksha curriculum also develops leadership ability and an entrepreneurial mindset, which are critical to creating problem-solvers.
We are offering four cutting-edge interdisciplinary majors that dismantle the walls between different disciplines — Computer Science and Artificial Intelligence; Robotics and Cyber-Physical Systems; Biological Systems Engineering; and Data Science, Business and Economics. The curriculum at Plaksha gives students the option to explore different majors in the first 3 semesters before finally declaring their major.
These majors will enable students to build technical depth, while enabling them to make connections between disciplines, analyzing the humanistic, socio-economic, and technical contexts of problems as an integrated whole, not segmented topics.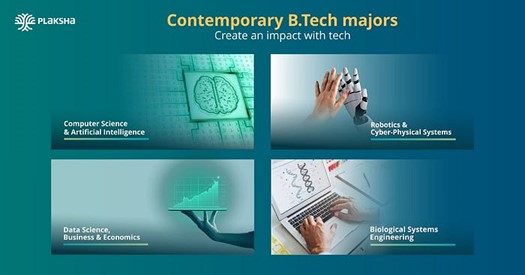 Robotics and Cyber-Physical Systems will create professionals and researchers at the intersection of computing, mechatronics, and human behavior. Data Science, Business, and Economics combines a core in data science with applications in business, economy, and society. Biological Systems Engineering taps into the power of biology and computing to improve outcomes in human health and planetary health. Computer Science and Artificial Intelligence goes beyond the confines of a traditional CS degree and focuses on elements of AI, machine learning, natural intelligence, human-computer interfaces, and neuro-linguistic programming.
The 'Grand Challenge Studios and Innovation Labs' are a marquee feature of a Plaksha education, and the embodiment of our hands-on learning and interdisciplinary approach to education. In these courses, students will work in teams to work on authentic real-world projects through digital agriculture, poverty, cybersecurity, etc. These courses are vertically integrated i.e they run throughout the 8 semester-long journey, allowing students to undertake multi-year projects with industry, faculty, and local communities. Throughout this journey, students will build on technical skills such as working with 3D printers, CAD, Arduino, Machining, Programming tools, DMM/Instrumentation, and soldering while working in Plaksha's signature Makerspace.
Students will also grow professionally and develop interpersonal, communication, leadership, and entrepreneurial skills, which will ensure that students have a holistic education.
The T shaped model of education that straddles depth with breadth has long been spoken about. We are progressing from the T shaped model to a Pi shaped model wherein students have depth in more than one discipline, as well as the ability to connect various disciplines to solve a problem. This will enable each Plaksha graduate to excel in their career of choice whether that be in multinational firms, research labs and universities across the world, social work, policy, and governance, or even their very own startups.