By Natasha Goel, Office of Admissions and Outreach
Creative engineers. Tinkerers. Scientific entrepreneurs. Researchers. Coders. Problem-solvers. Inventors. Innovators. Tech leaders. Visionaries. Risk-takers. Dreamers. Believers. And more.
Imagine all of them at one place. For four years. Breaking boundaries of what is possible with technology.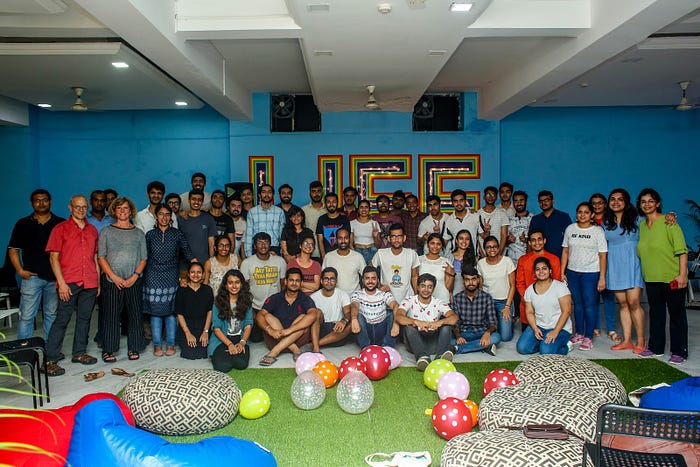 Welcome to Plaksha. The place where you will find your tribe. For a lifetime and beyond.
An upcoming 21st-century university, founded to reimagine technology education and research by a global community of entrepreneurs, business leaders, and academicians, Plaksha's vision is to create the next generation of fearless leaders who will solve the toughest challenges of our planet.
We are thrilled to announce that we are now accepting applications for our UG founding cohort. An exciting opportunity to co-create the learning experience with us. You get to plant the seeds for a flourishing student life, create stories, and leave behind a legacy for future cohorts.
At Plaksha, we follow a holistic admissions process. What that means is everything which you tell us, matters. We want to know what excites you, what inspires you, what drives you, what you have done, and what you want to do.
So, what are we looking for in an ideal student?
As our programs are academically rigorous, a strong academic background will be necessary to ensure that you are adequately prepared for the challenging curriculum. You can demonstrate your academic rigour through multiple channels such as standardized tests, school academics and participation in co-curricular activities. We highly encourage you to share participation in Olympiads, maker projects or tinkering pursuits that you may have undertaken. It could be something as simple and useful such as fixing a gadget you own!
We also want to learn more about your interests beyond the classroom. Extra-curricular activities which you enjoy participating in, sports you play or leadership positions you might have held as a part of various clubs or student councils.
And last but not the least, we want to understand more about you as a person. As a student of the founding cohort, there are certain values and mindsets which will take you forward in making the most of the experience — the ability to continuously learn, be open to taking risks and experimentation and having an entrepreneurial mindset. At Plaksha, we will motivate our students to take ownership of addressing and solving some of the hardest problems which our planet faces. The essays and interactions with the Plaksha team will be an opportunity to tell us more about 'you'.
We hope you will join us on this exciting journey!
Do check this blog to know more about the admissions process at Plaksha!