By Ritesh Malik, Plaksha Donor; Founder, Innov8 Coworking; Chairman, Nebula Holdings
Many a times, I wonder why we spend a quarter of our lives getting an education? For that matter, what is education? Why is academic success different from success in the real world? Shouldn't students who have a 9.5 CGPA or who top their respective classes be the most wealthy, influential, respected, impact drivers and change-makers?
I am a medical doctor and I admit without any qualms that I have been an average student throughout my life. Currently, I earn a living doing something that is not even remotely connected to my college education. I run a startup called Innov8 Coworking, a venture I launched in 2016 and subsequently sold to Softbank-backed OYO in 2019. During this time I grew to be the best in the industry vertical. My story begs an answer to the question - how did a medical doctor with no background in business build India's second-largest co-working company?
The answer lies in the current education landscape. I believe that education in its current format, is non-evolved, redundant, repetitive, and non-generalist. It does not equip students for the real world. I tested the hypothesis with by meeting several business leaders who had an academic degrees but not from Harvard or Yale and some who did not have those degrees but still employed more than 10,000 people and ran large companies. After meeting them I realized that their experience was similar to mine. They did not need conventional education landscape to be successful.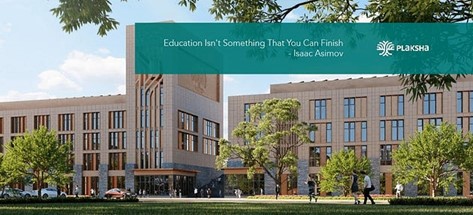 Need of the hour
We need to shift from our current ad-hoc learning environment to a system of continuous learning i.e learning, unlearning, and relearning. Education, especially in the formative years, should focus on basic values like building human character, and the ability to accept change, grow, and evolve with change.
This is one of the key reasons why I chose to be among the early founders of Plaksha. The next 50 years would be the most critical half-century in the history of mankind. Digital tech will engulf all distribution systems, value chains, and product creation. We will see the extinction of large corporations. The only constant in this period will be change. I am a big fan of Sir Charles Darwin, who stated that it is not the largest or the fastest that will survive, but the one who embraces change. This is what entrepreneurial spirit enables us to do - embrace change and evolve.
Therefore, a majority of students would need to learn the essence of entrepreneurship. It will be required not only by entrepreneurs but also by companies as they build lean and agile cultures, leading to an increase in freelancing, micro-entrepreneurship, and boutique outsourcing.
How do you impart an entrepreneurial spirit?
To start with, we can focus on intangible skills, which cannot be imparted by books.
Skills like:
1. Personal Finance
2. Humility
3. Non-entitlement
4. Massive Gratitude
5. Hustling
6. Change management
7. Curiosity
8. Digital sales
9. Online reputation management
10. Writing
11. Risk management
12. Public speaking
13. Giving respect
14. Time management
15. Frugality
16. Trust building
17. Health Management
18. Culture building
…and so on and so forth. These skills cannot be learned through conventional academic methodologies. They can only be imparted by entrepreneurs and impact makers who have been there and done that or people who we look up to.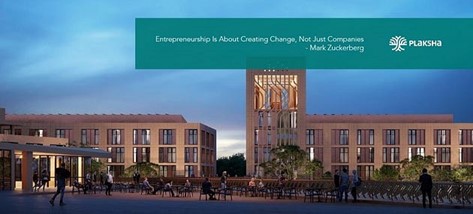 I met the professor of entrepreneurship at the most prestigious management institute in our country. He has been teaching entrepreneurship for the past 17 years. I asked him what he had built/innovated in the program, and I was shocked by the answer - 'nothing'.
This is the challenge as well as the opportunity for us at Plaksha. Our founding group is a dynamic network of 60+ entrepreneurs and impact-creators who want to reimagine tech education in every which way. We have already started walking the talk by spending time with our TLF (Tech Leaders Fellowship) students. We meet them one-on-one, take sessions, mentor them and create opportunities. And we learn from them too.
At Plaksha, we leverage entrepreneur-educators because teachers have the ability to change a nation. We are super excited that the next revolution in imparting education, which interweaves soft traits (intangible) with hard skills of Industry 4.0 (Bioengineering, Robotics, AI, ML, EV infra, 3d printing, Nanotech, IoT), etc, will take place at Plaksha.
We are ready to usher in an era of a new kind of engineer - who will be empowered with academic rigor, infused with an entrepreneurial spirit, and be passionate about solving the toughest problems of our society.