Plaksha partners with IISc
MoU covers faculty and student mobility, co-development of curricula, joint research and more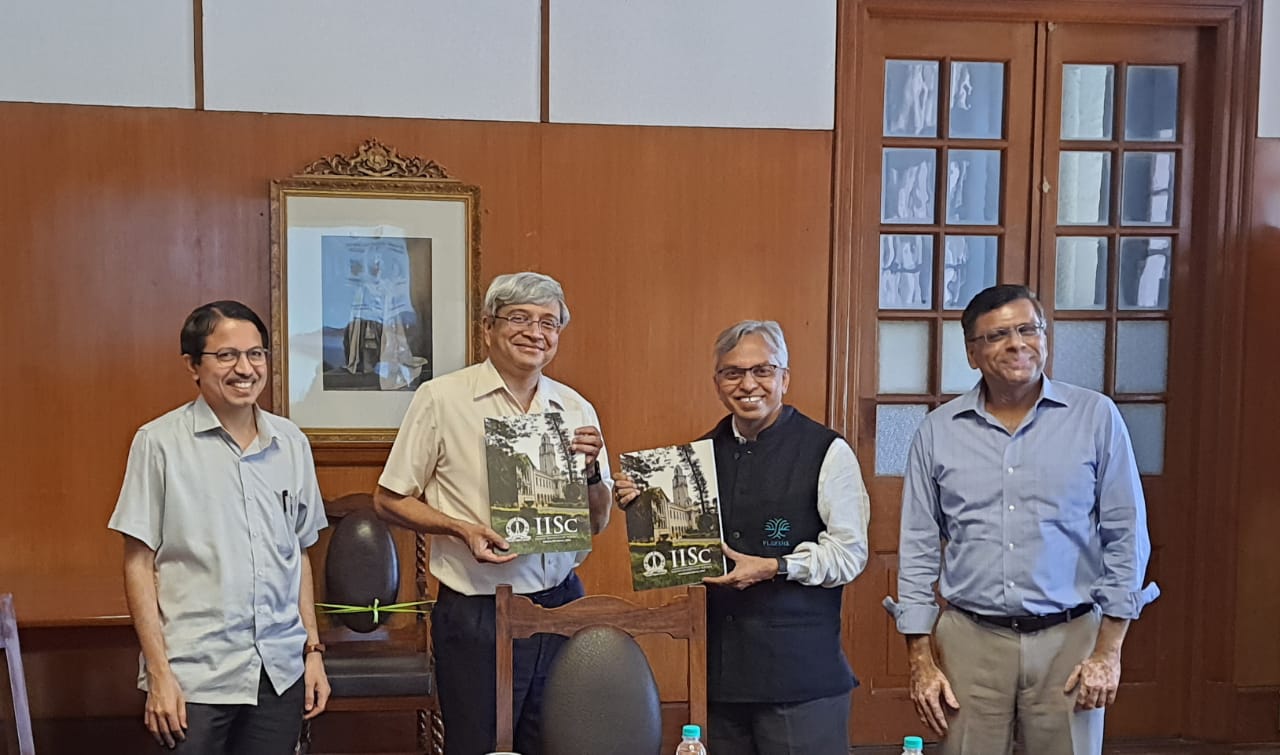 National, 12, May, 2022: Plaksha University, one of India's largest collective philanthropy efforts to build a tech university of global eminence, and Indian Institute of Science (IISc), one of the leading research institutions in India, have partnered to jointly foster faculty and student mobility, joint research/publications/conferences, and faculty/staff professional development. The initiative aims to offer a preview of the two institutions' academic strengths and provide students with mentorship from experts, co-development of curriculum, and provide access to the best facilities and resources.

With this partnership, the program intends to further strengthen the strong research collaborations between the two institutions and leverage expertise in robotics and cyber-physical systems (IISc's Robert Bosch Centre for Cyber Physical Systems), Digital Health (Plaksha University's Human & Planetary Health Institute) and Sensor Technology (IISc's Centre for Nano Science and Engineering)

Prof. Rudra Pratap, the Founding Vice Chancellor of Plaksha University (former Deputy Director of Indian Institute of Science) said, 'It is our honor to partner with IISc. Together with the expertise of both institutions, we will work on developing cutting edge research programs and explore greater avenues for students and faculty to shape their academic careers. Our partnership with IISc will keep evolving as we move further, and we look forward to deeper collaborations including a prospective joint Ph.D supervision which is on the cards."

Prof. Navakanta Bhat, Dean, Division of Interdisciplinary Sciences, IISc, said, "We are glad to partner with a niche institute like the Plaksha University. This partnership will greatly encourage students from both IISc and Plaksha University to pursue interesting research projects, and will give them a unique opportunity to learn from experts at both institutions. We look forward to our collaborations with them in new and diverse areas."



About Plaksha University:
Plaksha University is one of India's largest collective philanthropy efforts to build a tech university of global eminence. Founded by 60+ technology and business leaders from 5 countries, Plaksha envisions to reimagine technology education and research for India and the world. With strong partnerships with UC Berkeley, Purdue, SRI International and IIT Kanpur Plaksha aims to create an entrepreneurial and research ecosystem creating a new generation of catalytic leaders. The university collapses the traditional boundaries of engineering and promotes interdisciplinary learning by combining technology, design and entrepreneurship.

The leaders behind Plaksha include business leaders such as Neeraj Aggarwal, Chairman – Asia Pacific, BCG; Hitesh Oberoi, Co-promoter, MD & CEO, Info Edge (Naukri.com); Ashish Gupta, Founder, Benori Knowledge Solutions; CP Gurnani, MD & CEO, Tech Mahindra; Gagan Hasteer, VP, Content Engineering, Netflix; Manas Fuloria, Co-founder and CEO, Nagarro; Mohit Thukral, Founder and CEO, Vivtera Global Solutions; Pankaj Chaddah, Co-founder, Zomato; Pramod Bhasin, Chairman, Clix Capital; Vineet Nayyar, Former Executive Vice Chairman, Tech Mahindra; Rakesh Bharti Mittal, Vice Chairman, Bharti Enterprises; Srikanth Velamakanni, Co-founder, Fractal Analytics, among others. Corporate donors include companies like Bharti Foundation, Mphasis, Axis Bank and Motilal Oswal. The global community of business leaders who founded Plaksha can be seen here.

About IISc
The Indian Institute of Science (IISc) was established in 1909 by a visionary partnership between the industrialist Jamsetji Nusserwanji Tata, the Mysore royal family, and the Government of India. Since its inception, the Institute has laid a balanced emphasis on the pursuit of knowledge in science and engineering and applying its research findings for industrial and social benefit. In 2018, IISc was selected as an Institution of Eminence (IoE) by the Government of India, and it consistently figures among the top Indian institutions in world university rankings. According to the QS world university ranking 2022, IISc has secured the top place in the world in the citations per faculty metric, which is a measure of research impact.

In the coming years, IISc aims to position itself among the world's foremost academic institutions. The Institute will focus on building its core research strengths in all frontiers of science and engineering, develop world-class teaching programmes, nurture translational research and encourage the incubation of successful start-ups. It will continue to empower researchers from diverse disciplines to work together to solve pressing challenges. IISc will also continue to carry out activities with direct social impact, such as training school teachers, disseminating sustainable rural technologies, and research in areas like climate change, healthcare, water management, and renewable energy. At the same time, the Institute seeks to embrace modern professional practices, and benchmark itself against international standards.