Plaksha University hosts leading AI experts at ConfAI 2023, Showcasing Emerging AI Solutions in Clean Energy, Diversity and Inclusion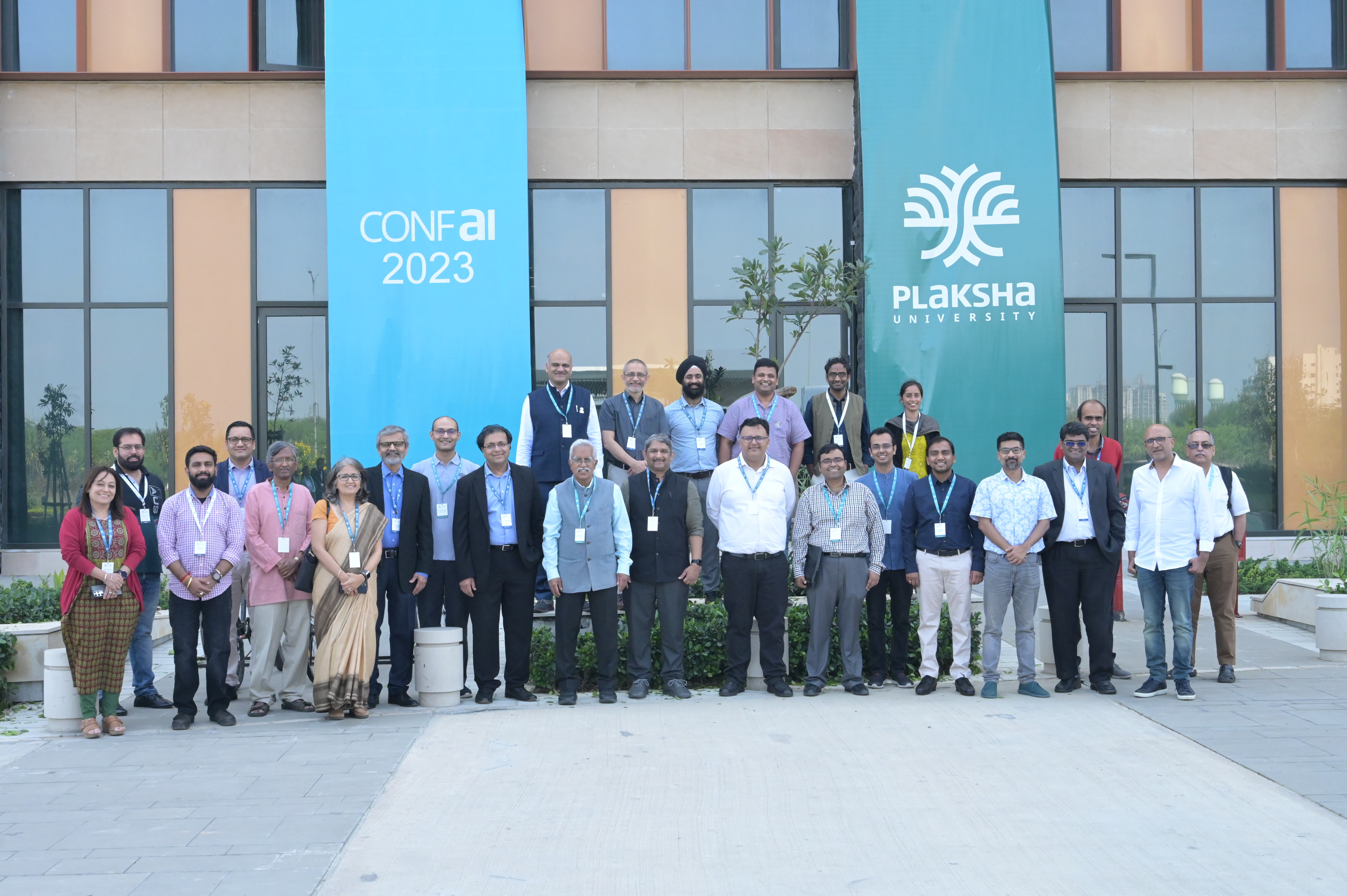 March 24, 2023, India: Plaksha University, one of India's largest collective philanthropy efforts to build a tech university of global eminence recently organised, ConfAI, 2nd Annual Academic Conference on Artificial Intelligence, at the university's Mohali campus between 22-24, March. The initiative aligns perfectly with the university's purpose of reimagining tech education to solve complex, major problems of the world.

The invite-only 3 day conference aimed at showcasing the potential of AI and data science in finding effective solutions to various societal challenges. A disruptor and a leader in driving the next big change in the Indian tech education ecosystem, Plaksha University hosted eminent business leaders, academicians, scientists, thought leaders, and practitioners. The general co-chairs of the conference were Dr. Rajesh Gupta, Professor and Qualcomm Endowed Chair, UC San Diego, Dr. Uday Desai, Founding Director of IIT Hyderabad and Dr. Nandini Kannan, Director, Data Science Institute, Plaksha University. Discussions were on a broad range of applied and theoretical areas within computational intelligence and machine learning including the theory of AI, AI for social good and techno-philosophy among others.

On Day 1, the conference boasted an exceptional lineup of speakers Dr. Rajeev Rastogi, Vice President, Machine Learning, Amazon, Dr. Rohini Srivathsa, National Technology Officer, Microsoft India and Dr. Vivek Raghavan, Chief Architect of Aadhaar.

The keynote address was delivered by Dr Rajeev Rastogi, VP Machine Learning, Amazon India. He spoke about 'modeling best practices based on e-commerce applications at Amazon'. Dr Rajeev Rastogi, spoke about best practices when developing Machine Learning models such as generating uncertainty estimates for predictions, balancing exploitation with exploration, generating explanations for predictions, handling noise in training data, etc. He showed how these modeling best practices are applied at Amazon using real-world examples from the India e-commerce business.

Dr Vivek Raghavan, Chief Project Manager & Biometric Architect, UIDAI; Chief AI Evangelist, EkStep Foundation highlighted the ecosystem approach to collect data & build models in 22 Indian languages, applications in speech-to-speech communications, voice based payments & voice bots leveraging LLMs. He was talking about 'Indian Language AI as Digital Public Good'

Dr Rohini Srivastha, National Technology Officer, Microsoft India, spoke about Demystifying Generative AI.

Dr Sumohana Channappayya, IIT Hyderabad, session on 'Completely blind-video quality assessment of user-generated content' focused on the application of a neuroscience model of the LGN region of the human visual system to blindly estimating the perceptual quality of natural videos. The work was based on the hypothesis that distortions impact the perceptual domain representations of natural videos, and quantified this impact. The proposed video quality assessment model was validated on several user generated content datasets.

Additionally, Plaksha University organised a thought-provoking panel discussion on "Diversity & Inclusion in AI," featuring renowned panelists Nishtha Dewani from IBM, Dr. Rohini Srivathsa from Microsoft, and Dr. Sudhir Voleti from ISB Institute of Data Science, moderated by Dr. Nandini Kannan from Plaksha.

The day ended with a roundtable where industry and academia discussed opportunities and challenges in research and education in Data Science & AI and shared best practices.

About Plaksha University:
Founded by a global community of more than 100+ technology and business leaders, Plaksha envisions to reimagine technology education and research for India and the world. With strong partnerships with UC Berkeley, Cornell University, Purdue, UC San Diego, IIT Kanpur, and IISc Bangalore, Plaksha aims to nurture and empower a generation of catalytic leaders and create an ecosystem of research and innovation. The university collapses the traditional boundaries of engineering and promotes interdisciplinary learning by combining technology, design and entrepreneurship.

Plaksha is guided by an eminent academic board including Dr. Vijay Kumar, Nemirovsky Family Dean of Penn Engineering, University of Pennsylvania; Venkatesh Narayanamurthi, former Dean of Harvard School of Engineering and Applied Sciences; Sriram Rajamani, Managing Director, Microsoft Research India; Julia Ross, Dean of Engineering, Virginia Tech; Krishna Palepu, Ross Graham Walker Professor of Business Administration, Harvard Business School; Sanjay Sarma, Fred Fort Flowers and Daniel Fort Flowers Professor of Mechanical Engineering, MIT; and business leaders such as Neeraj Aggarwal, Chairman – Asia Pacific, BCG; Hitesh Oberoi, Co-promoter & CEO, Info Edge (Naukri.com); Srikanth Velamakanni, Co-founder, Fractal Analytics; Manas Fuloria, Co- Founder, Nagarro; Rakesh Bharti Mittal, Vice Chairman, Bharti Enterprises; Navin Chaddha, Managing Director, Mayfield Fund; Sujeet Kumar, Co-founder, Udaan.com; Dalip Pathak, Special Limited Partner, Warburg Pincus LLC; CP Gurnani, MD & CEO, Tech Mahindra; Pramod Bhasin, Chairman, Clix Capital among others. Corporate donors include companies like Bharti Foundation, Havells, HT Parekh Foundation, Mphasis, Axis Bank and Motilal Oswal. The global community of business leaders who founded Plaksha can be seen here.